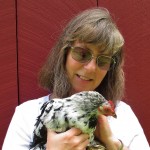 Welcome to my backyard farming blog, where you will find my articles on various homesteading topics, such as backyard chickens, gardening, and permaculture. This blog also features some posts on wildlife tracking and camera trapping, which have since become my main interests, and now the subjects of my new blog, Winterberry Wildlife. Feel free to browse the archives here at One Acre Farm, but my current activity is over at Winterberry. In addition to my blog posts, you will find information about my wildlife tracking walks and talks. Most are day long adventures in the Quabbin Reservoir area of Massachusetts. People of all levels of tracking experience are welcome to join us, so check out what I've got on the schedule and register for programs here.
Background
As a Massachusetts native, I admired the flora and fauna of my suburban surrounds from an early age. A seventh grade teacher inspired my interest in life sciences, which I pursued in a variety of ways over the years. I have a Medical Degree and practiced psychiatry for 10 years before leaving due to a medical illness and desire to raise my children full-time.
As a stay at home mom, I founded and led a 4H Birding and Nature Club, and set up and monitored a 30 nesting box Cavity Nesting Project. In 2004 I launched Animal Trackers of New England (formerly Nashaway Trackers), a group of wildlife enthusiasts who track for fun and occasionally provide data to local conservation organizations. I've led many walks for both adults and children, and have given several presentations on wildlife tracking and camera trapping. In 2013, I completed a master's degree in Conservation Biology, and in 2014 I earned a Level III CyberTracker certificate.
I am currently writing a book on wildlife tracking and camera trapping, and I still garden for food and for wildlife, keep a flock of about 15 chickens, and forage for edible wild plants.
Updated November, 2016