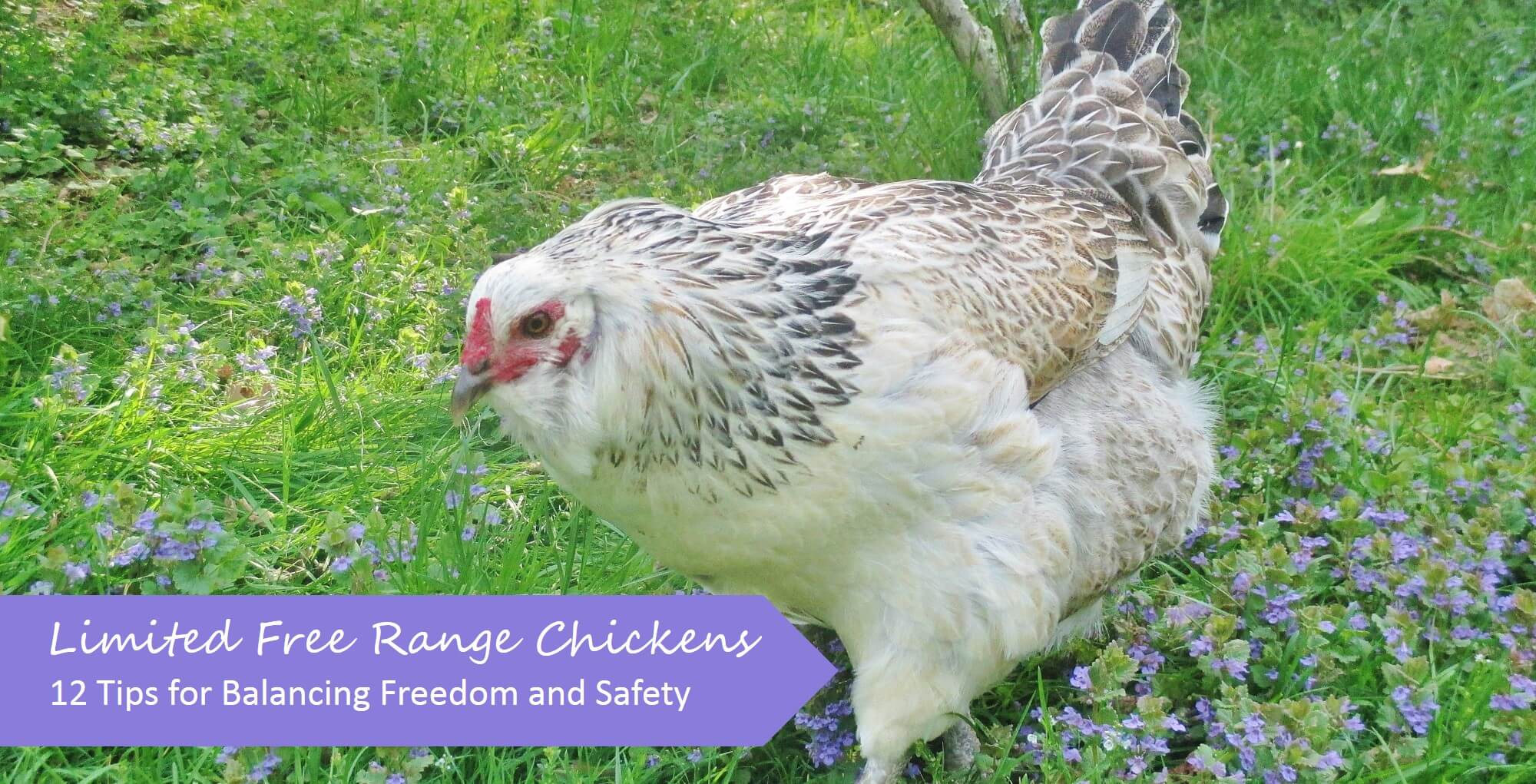 Animal welfare and human health benefits of free range chickens and eggs are well known, but the disadvantages of true free ranging are also well recognized. Loss to predation is a serious risk, but even worse is the war on wildlife that often follows. A free range backyard chicken keeper must hunt for both predators and hens' eggs, for hens don't necessarily lay them in nesting boxes when they have access to natural hiding places. Neighbors don't want chickens destroying their gardens, and drivers don't want them in the streets. True free ranging is not the best option, but we balance freedom and safety by providing a modified free range experience. We are proud to say that our system allowed us to obtain certification by both Animal Welfare Approved and Predator Friendly. Here are 12 tips to help you give your chickens the best of both worlds.
Limited Free Range Chickens: The Best of Both Worlds
Any time small livestock are allowed to roam freely, the risk of predation shoots up, and the time and effort you must devote to protecting them rises. Many people allow them to free range for short time each day, but to keep the chickens from wandering too far, they limit "recess" to no more than a couple of hours, and often just a half hour. And since it's hard to get the birds to come home when they've been out for so little time, people usually let them out shortly before sunset, taking advantage of the chicken's natural instinct to return to the roost for the night. I used to do it this way, and thought it didn't add quite enough quality of life. It was also riskier – we had more close calls with predators.
The solution? Provide a large, fenced yard with features that enrich the lives of your birds and reduce the risk of predation. The following explains how we do just that, with 12 important considerations for maximizing safety and quality of life in a modified free range setting.
1. Fencing to Contain the Chickens
Fencing to contain the chickens need not be predator proof. It just needs to keep the chickens where you or can keep an eye on them, at least from time to time, or where your guardian animal can watch over them. The height of the fence you need to prevent flying over depends on the breed and density of chickens (see those topics, below). I have a 4 foot fence, which contains 20 chickens within a 1/3 acre yard. Rarely do any of them even look interested in flying over. However, chickens stocked at high density will want to get away from each other. Most breeds will regularly fly 4 foot fences if overcrowded. Five foot fencing will be needed to contain them.
Electronetting? Great idea, if land predators are a problem. The other features of our set-up (see below) make attack very unlikely, so we use just plain fencing. Ours is PVC coated chicken wire.
2. A Guard Dog
Guard dogs don't often work well in a true free range setting, because chickens wander, and guard dogs don't usually herd them. But if chickens are contained within fencing, a good guard dog can be effective. Read about the Best Guard Dog Breeds for Livestock and Poultry. Don't want a dog? Neither do I. The time and money a dog would require, not to mention the anxiety it would create for our cats, wouldn't outweigh the benefits. So if you don't want a dog, pay extra careful attention to the remaining tips. However, I should add that if you plan to leave for hours at a time while your chickens are out, a guardian animal would be important.
3. Location of Chicken Yard
Locate your fenced chicken yard where you can see it. If you can't easily monitor it, there's no point in fencing them in. Predators will quietly carry them off despite the fence when you're not around. Careful location is less important, though still a good idea, if you have a guardian dog.
4. Layout of Chicken Yard
A smart layout makes it harder for predators to strike before you and the chickens notice them. This is important even if you do have a guardian dog, for the dog cannot monitor everything at once. Here are some pointers:
It's best if the habitat elements which attract chickens are not near the fence. Compost bins, shade, dust bathing areas, and the best vegetation for foraging should be in the middle of the yard, or close to the house (see illustration). Luring chickens to the fence brings them that much closer to the jaws of hungry wildlife.
Keep vegetation mowed on both sides of the fence. Taller vegetation around the fence creates hiding places for predators.
Do you see how this creates a challenge for many predators? The chickens tend to stay under cover away from the fence, and a land predator would have to cross an exposed fence and yard to reach them. They have no place to hide before striking. You and the chickens are more likely to see them. They know that, and they're less likely to attack.
Is this set-up 100% effective against land predators? Nope. But it helps a lot. As a wildlife tracker and camera trapper, I've seen clear evidence of fox, bobcat, coyote, and raccoon in my yard. Yet not a one has so much as made an attempt since we created our fenced yard as shown in the illustration.
5. Disturb the Peace
Predators are more likely to strike if there is nothing to fear. Human activity scares them, which is part of the reason many are nocturnal. Indeed, my trail camera work suggests that some predators are quite active during daylight in remote areas, where human activity is low.
But predators are also clever. If your activity is predictable – say every afternoon at 3pm you weed the garden for a half hour – they might learn your schedule and know to attack before or after that. So, vary your routine. Make random visits. I take a break from my office every now and again, to walk – and talk and sing – amongst the chickens. Be loud! That lets predators know you're there.
6. Cover
Cover is absolutely essential to reducing the risk of capture by any predator, and the most important defense against aerial predators. Chickens fenced in an empty lawn are easy hawk bait. We have a clump of fruit trees and shrubs in the middle of our chicken yard. This provides excellent shade and cover. And because the herb layer beneath is rough, it's also the best area for foraging. Further, it provides shade and cover over our compost bins, another favorite foraging area. Be sure that your birds have good cover over all of their favorite habitat features.
7. Animal Density
I mentioned this above, when discussing fencing, but it deserves emphasis. Remember that the goal here is to provide a free range like experience. That doesn't mean ranging on bare dirt, and it doesn't mean that chickens so stressed that they're plucking each others' feathers. With a maximum of 20 chickens in a 1/3 acre fenced yard, green vegetation covers the ground. But if I had 200 chickens in the same area, the ground would be bare, and this would not be "limited free range". It would just be a bare, overcrowded run. Chickens would also more likely fly the fence for greener pastures, or just to spread out and relieve the stress of over crowding.
8. Chicken Breeds and Plumage Patterns Suitable for Partial Free Range
Chickens come in a wide variety of breeds and colors, so there will be many options regardless of your set-up, and you'll be able to have a mixed flock if you prefer (see 4 Benefits to a Mixed Flock of Backyard Chickens). However, you should consider the following:
Head feathering: Avoid any breed with head feathering which obstructs vision. Silkies and Polish, for example, have ornamental feathers which hang over their eyes. These breeds tend to be hawk bait because they can't see the attacker until it's too late.
Camouflage: Choose feather colors and patterns which provide some camouflage. Like I said, limited free range is not 100% predator proof, so it's wise to keep birds which are less obvious to predators. Muted earth tones, such as browns and grays, are harder to see against natural vegetation than pure white. Barred, speckled, or mottled patterns blend better with a natural background than solid colors.
Athletic ability: Choose vigorous breeds which can run quickly to cover, but avoid very flighty birds if you want them to stay within the fence. What this means is to avoid the extremes. Meat breeds may be too slow, and slender Hamburgs, for example, are too flighty. Dual purpose breeds are great for a limited free range situation as described here. These include Plymouth Rocks, Wyandottes, Easter Eggers, Rhode Island Reds, Orpingtons, etc.
9. Train Chickens to Come When Called
Yes, I know that chickens usually learn on their own to come running when they see you carrying the treat bowl. But if you're going to let them range beyond a predator proof coop and run, you should train them to come immediately to a specific call. That way, you can call them to safety should you notice a lurking predator before they do. Or, if they fly the fence and scatter after detecting a predator, you can call them back when all is clear. Coming to the sight of the bowl isn't good enough. Train them to come to a call when they can't even see you. Read details at How to Train Chickens to Come When Called.
10. Consider Keeping a Rooster
I'm a little hesitant to recommend this as a method of flock protection, because I think the protective instincts and abilities of roosters are over rated. Some aren't very protective at all (I speak from experience), and many predators are large and confident enough to kill the rooster before moving on to the hens. So keeping a rooster is a fine thing to do, but don't depend on him alone to protect the flock.
11. Habitat Quality
Now let's talk more about quality of life. If you want your chickens to have a free range type experience, you must provide habitat elements that allow them to express their natural behaviors. But be sure there is good cover over all of their favorite habitat elements. A big open mowed lawn is boring and unsafe. I highly recommend you read Creating a Chicken Habitat for the details, but in brief, here is what you should provide:
Plant diversity: a mix of trees, shrubs, herbaceous plants, and grasses. This provides a range of both plant and insect foods, since a diversity of plants attracts a diversity of insects.
Rough area: where grasses and herbs are allowed to go to seed, because chickens enjoy eating seeds.
Dust bathing area: I let mine make their own dust baths wherever they want (which is usually under the berry and nut shrubs). But dust baths are unsightly to some people, so you might want to choose the location. Create some where you want them, and chickens will likely use them. But do place them under cover, so birds will be hidden from hawks as they relax.
Perches: We all know chickens prefer an elevated roost for sleeping, but they also like to rest from time to time on a perch during the day. Our bantams, especially, like to perch on the low branches of the fruit trees within their fenced yard, and all of them perch on the rims of the compost bins.
12. Predator Proof Coop and Run
Why bother to create a predator resistant, modified free range situation if you aren't going to secure them when they're not ranging? You might be lucky for awhile, but predators WILL get your chickens eventually, if they are not secured at night. The chicken coop, at the very least, needs to be predator proof. And, the less time the birds "free range", the more important it is to have a predator proof run. Here's a great how-to in Predator Proofing Your Chicken Coop and Run.
How do you balance safety with freedom for your chickens? Feel free to share your experience and ask your questions!