Keeping backyard chickens is a wonderful way to grow some of your own food and learn about animal behavior, but it does present the flock master with a few challenges. Perhaps the greatest is keeping chickens safe from predators. It's worth rising to that challenge, however, and it's not difficult if you understand what you're up against. You need to deter animals that dig, climb, or fly. You must fortify your set-up to foil creatures small enough to slip through little holes, strong enough to destroy a car, or deft enough to open one-step locks.
Predator Proofing Your Chicken Coop and Run
You must understand from the start that virtually nothing is 100% effective, but it is possible to make the coop and run almost 100% effective. Our coop/run set-up has featured all of the strategies described below for 8 years (except for the electric fence wires, which we added last year), and we've not lost  single bird to predation while confined to the coop and run. It's much more difficult to keep chickens safe when allowed to roam beyond the coop and run, and I'll be posting about that in the future.
This post explains how to fortify your set-up to exclude the common poultry predators of the US. If you are not yet familiar with them, you might want to check out my previous post on Poultry Predator Identification, where their tracks, scat, and behaviors are discussed.
---
This post contains links to online shopping, which is a way for you to support One Acre Farm at no additional cost to you. Click here for my full affiliate disclosure. Thanks for your support!
---
Confine chickens to a predator proof space at night
Enough said. Some predators are indeed active during daylight, but many are more apt to strike at night while you are sleeping. Leave them out, and you might wake up to grisly remains, or to nothing at all. And don't wait for your chickens to come in on their own. Many wild animals are most active at dawn and dusk, so I recommend calling them in well before sundown, and not letting them out till well after sunrise. Learn to train them to come when called from a previous post here.
Predator proof both coop and runs
It takes additional time, effort, and money to predator proof a run, but for us it has been well worth it. During mild weather we can leave the pop doors to the run open, giving the chickens constant access to the runs. Some people use an automatic pop door to close at night and open in the morning, to give chickens access to a less secure run during daylight. The problem with is that many predators are perfectly willing to strike during daylight, if the birds look easy enough to get. And what do you do when you go away? I would never give them access to an unsafe run even during daylight, when nobody's home, and I'd hate to keep them confined to the coop for more than a few days.
Elevate the coop
If you're going to have a wood floor, put the coop on stilts, because the floor will eventually rot, creating entry for weasels, rats, and eventually larger digging animals. If you choose not to elevate, then don't bother with wood flooring. Let the ground be the floor, but be sure to bury fencing well below ground level, or surround it with a skirt, as described below.
Cover windows with hardware cloth
If you would like to open windows on hot summer days, they need to be covered with 1/2 inch hardware cloth. Even with that protection, though, I almost always close the windows at night, because sometimes the chickens roost kind of close to the window, and I can imagine a raccoon terrorizing them, even if it couldn't get in.
Keep feed from pests
Store feed in tightly covered metal barrels to prevent access by mice and rats. Keep the barrels where raccoons and bears cannot reach them, because they can open these barrels.
Some people keep the feeder outdoors while chickens free range. Outdoor feeders, however, attract wild birds and animals, and that is asking for trouble. Some spread disease, some eat chickens, and others eat eggs, if they become comfortable enough to check out the coop.
We keep the feeder in the coop even while chickens range outdoors. They can return to the coop for a bite to eat every now and then if they cannot find enough outdoors.
Use half inch hardware cloth for sides, top, and skirt
Enclose runs with 1/2 inch hardware cloth, to exclude weasels and snakes. You might want to go with 1/4 inch for baby chick housing, but larger chickens would probably eat anything that could fit through 1/2 inch openings. Secure the hardware cloth with screws and washers, and space them closely enough to keep openings less than 1/2 inch.
For runs and coop with dirt floor: Bury hardware cloth 2 feet down, and/or place a skirt of hardware cloth 2 feet out. I've seen 1 foot quoted as sufficient for a skirt or underground fence, but I think that's borderline sufficient. I once had a rabbit dig out of an enclosure with 18 inches of fencing buried underground. Perhaps most predators don't dig as enthusiastically as rabbits, but I wouldn't want to chance it.
Use plastic coated hardware cloth underground. Even galvanized hardware cloth gradually breaks down when moist. (We found it begins to disintegrate within several years even above ground, and now use only plastic coated hardware cloth for outdoor projects that we want to last.) Do this around runs, and if you didn't elevate the coop, do it around the coop, too.
Don't forget to top the run with 1/2 inch hardware cloth! Some people run fishing line across the top, which does seem to deter hawks, but does not exclude exclude climbing predators…And many predators climb well.
Don't skimp by using chicken wire on top. Weasels can climb, and many of them can squeeze through 1 inch openings. Raccoons can climb, and they can tear through chicken wire.
Use hot wires in bear country
If you live in bear country, you'll need electric wires around your chicken coop and runs, because bears can demolish sturdy structures, if the reward is a chicken dinner. We don't have a breeding bear population in my part of Massachusetts, but dispersing individuals do pass through, and have been known to destroy entire flocks along the way. We added electric wires last year.
When you run the wires, think about the size of a bear and where it's likely to come into contact with the coop/run. We have 3 wires running between 1 and 4 feet off the ground. They go up around the doors (so we can get in), so theoretically a bear could get in if it touched only a door. But that seems improbable, since a bear is not likely to understand that it needs to avoid the wires to avoid shock.
Padlock the doors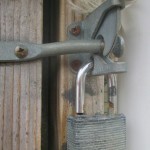 Raccoons use their nimble fingers to open simple locks and marauding humans do the same. Discourage both of these sneaky creatures with a padlock. A padlock might be overkill for a racco0n, but I've read enough stories about people stealing chickens. Deter both clever opportunists with a padlock.
Guard animals
If you have the inclination and time for training a livestock guardian animal, that may be the way to go. I am told that Great Pyrenees dogs are the best, while other dog breeds, donkeys, llamas, etc., may be less reliable. I know one person who was successful for several years with a pair of geese as the only guard animals for an otherwise poorly protected coop. However, it seems to me that a bear or even a family of coyotes would be content to make a meal of the geese. I'd go with a large dog.
Don't rely on a rooster
In my opinion, the rooster's ability to protect the flock is way overestimated. Not all of them are inclined to try. One of mine was always the first member of the flock to hide. Even if yours stands up to predators, he still sleeps at night, and during a day time attack, he can't deter larger animals. He'll be the first to die, and the hens will be next. His crowing can be a life saving warning to the hens when a small predator lurks, but more of a dinner bell for larger predators.
Beware of deterrents that sound too good to be true
Because they probably are. Deterrents like streamers, decoy animals, predator pee, loud music, strobe lighting, and ultrasonic repellents might work initially, but eventually predators may habituate to them.
Consider Predator Friendly Certification
Are you committed to sharing the land with wildlife? We are, and we recently became Certified Predator Friendly. I'll be writing more about that in the near future, but for now, check out their inspiring program here.
What has been your experience with keeping chickens safe? What is your approach to predator proofing the chicken coop? What has worked and what hasn't? Feel free to share your thoughts or ask questions below!