I'm in an odd place within the homesteading crowd. So many are preppers and survivalists. I am neither, yet I engage in, and write about, many of the same activities that they do: gardening, preserving, foraging, and wildlife tracking.
I share my posts with preppers and survivalists, because we appreciate each others' work. But sometimes I feel like a fake, because I'm not really preparing for a disaster, I don't keep a year's supply of food, I am grateful for modern medicine, I applaud the public school system, and I enjoy the amenities of living on the grid.
And I have plenty of friends who enjoy survivalist activities, but don't strive for self-sufficiency, nor focus on disaster planning. So the survivalist trend attracts different types of people and for different reasons. What's the appeal? What does it mean on an individual level, and on a population level? Is it good or bad for the environment? Is it at odds with modern technology? I was inspired to try to answer these questions in anticipation of National Geographic's upcoming series, Live Free or Die. This post was featured by National Geographic in Re-wilding: Homestead Bloggers Weigh In.
Survivalism, technology and sustainability
The surge in interest in survival skills
At the root of it must be discomfort with our growing dependence on technology, which creates the illusion of independence from the natural world. Our vegetables grow in far away fields, and our food animals are crowded in warehouses and hidden from view. Our medicines with names we can't pronounce, were created with processes we don't understand.
Layers of specialized knowledge separate us from the raw resources needed for survival. And that makes us uneasy. Some of us fear and prepare for the collapse of that complex system. Some of us want to reconnect with ancestral ways. Some of us want more control over the resources we use for personal health. Some of us simply enjoy working with soil, plants and animals.
And some of us believe that "simple living" is better for the environment. But is it? What would happen if everyone took the Back to the Land concept to the extreme?
Primitive living and sustainability
It frightens me to imagine 7.1 billion people attempting to live as hunter-gatherers. Most scientists agree that Earth's carrying capacity for humans depends on technology, because the latter affects how we manage resources and waste products. Surely, without agriculture, high rise buildings, and many other feats of modern engineering, Earth's carrying capacity for humans must be much lower.
One estimate says Earth could support a population of about 100 million human hunter-gatherers. How about 7.1 billion hunter-gatherers? Think accelerated species extinctions, famine, and war. In the short run, widespread conversion to hunting and gathering wouldn't do any good for people or for the rest of Earth's biota. Stabilization at 100 million hunter-gathers might be more sustainable than 7.1 billion modern humans, but getting there would be painful. Especially for the other 7 billion.
The value of the survivalist trend
Widespread conversion to a hunter-gatherer existence would probably cause ecological collapse. But I think there is something to be gained from the survivalist trend, beyond the personal rewards to the rugged individual.
While humanity is relatively stable at present, for many other species, the SHTF already. And they don't have a bug out plan. It's called the Anthropocene Extinction Crisis. But people working directly with the wild plants and animals they need for survival, have an awareness of them that white-collars tend to lack. Some examples:
Trackers and hunters often know what factors impact the health and populations of their target animals.
Foragers are aware of invasive plants and declining native plants.
Gardeners see that native pollinators are declining.
These people remind all of us of our dependence on Nature and provide information valuable for conservation. They can also inform researchers, via citizen science projects (see below).
….But only if they use technology, like the internet, to communicate their findings. Ironically, it's modern technology that makes the survivalist trend useful on a population level. And because of modern technology, the average person can learn "primitive" skills and apply them to environmental causes.
Survival skills for the average person
So let's say you're a suburban or an urban dweller. You have no fantasies of living off the grid, or of getting all your food from wild game and wild plants. But you'd like to feel a little more self-reliant, to connect more directly to the plants and animals that are your food, and spend more time exploring forest and field. You're in luck, because modern technology has made a wealth of information readily available to anyone who wants to learn. There are many options:
Gardening. While this is not exactly "primitive", it's a basic skill which allows you to eschew some of the more questionable technologies, such as pesticides and GMO's.
Keeping small livestock for food or fiber. Honeybees, chickens, ducks, rabbits, or small goats or sheep, work well in some suburban areas, and occasionally in urban areas.
Sewing, knitting, or weaving some of your own clothing.
Responsible foraging is a great "primitive" skill, because you don't need any equipment other than field guides. There are many online sources of information, and foraging walks are popping up all over the country.
Tapping trees for syrup. You can make maple syrup, if you have sugar maples, but that's not your only option. Sap from certain other trees can be made into syrup, as you can read here.
Animal tracking is a valuable skill for learning about your wild neighbors. Suburbs are often rich with wildlife, contrary to popular belief, and even urban areas are home to a good number of species. And you don't need any expensive equipment for tracking.
Birding is another option. It's so mainstream now that you probably don't think of it as a primitive skill, but it is a great way to heighten your wilderness awareness. All you need is a decent pair of binoculars and a field guide.
Learn to hunt or learn to fish, even if you do it only once or twice a year. These are options for those who can manage the expense of the necessary equipment and travel.
How to use survival skills to improve sustainability
Modern technology can help you use your basic skills to contribute to wildlife conservation, which is essential for sustainability. A computer, a camera, a pair of binoculars, a GPS, and an iphone are quite useful.
Survivalism, technology, and sustainability don't have to be mutually exclusive. On the contrary, we can couple the skills of the past with the tools of the present to secure a sustainable future.
What are your thoughts about the survivalist trend? Would it be sustainable on large scale? Is technology the friend or foe of sustainability?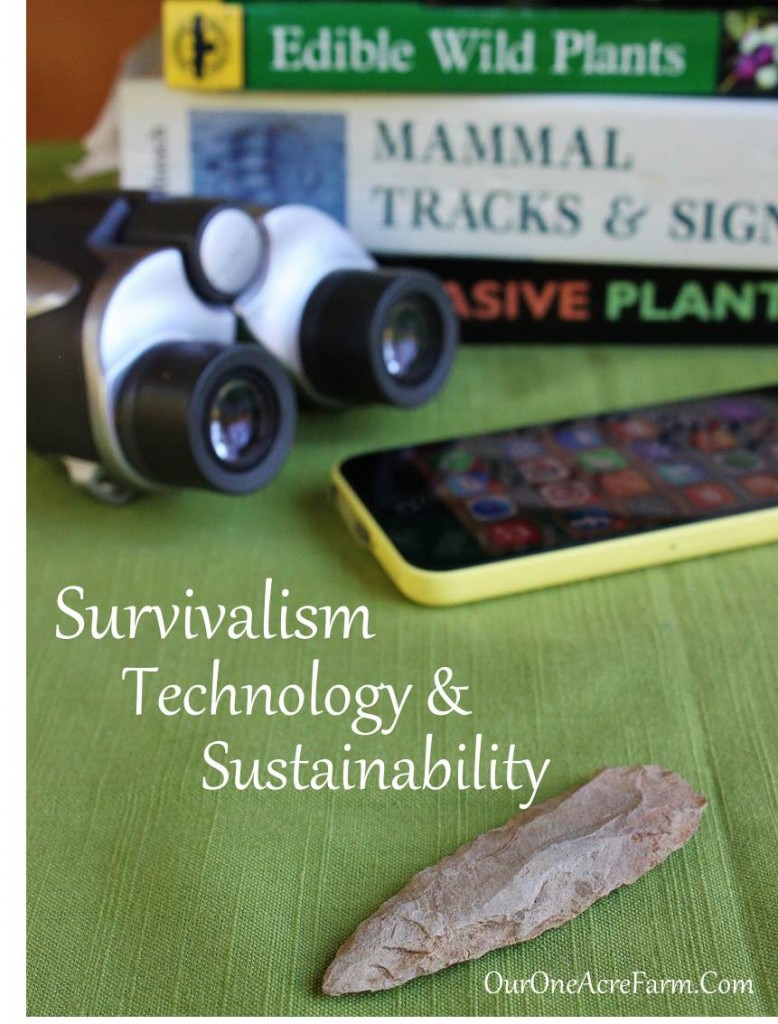 Shared on: Homestead Barn Hop, Thank Goodness it's Monday, Natural Living Monday, Backyard Farming Connection, Wildcrafting Wednesday, From the Farm